Portable multi-functional energy storage power supply
Navigation:HOME
DS-320
320W/159Wh Portable Solar Power Station with high quality Bluetooth speaker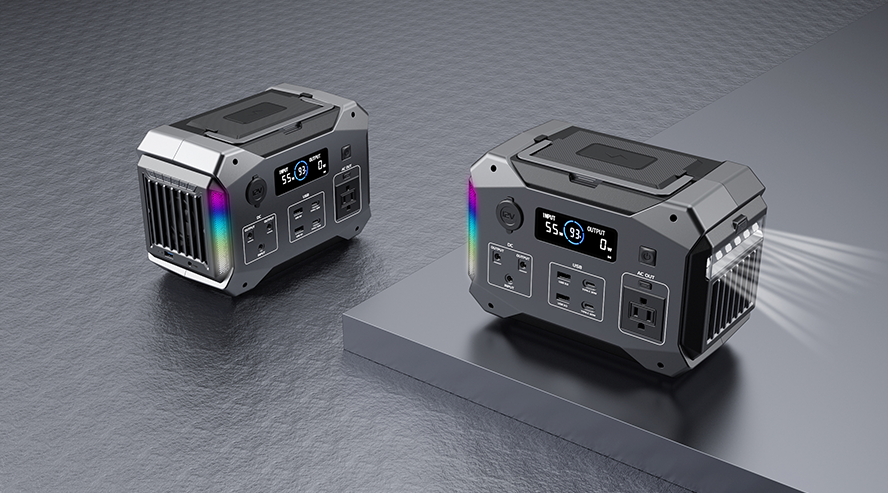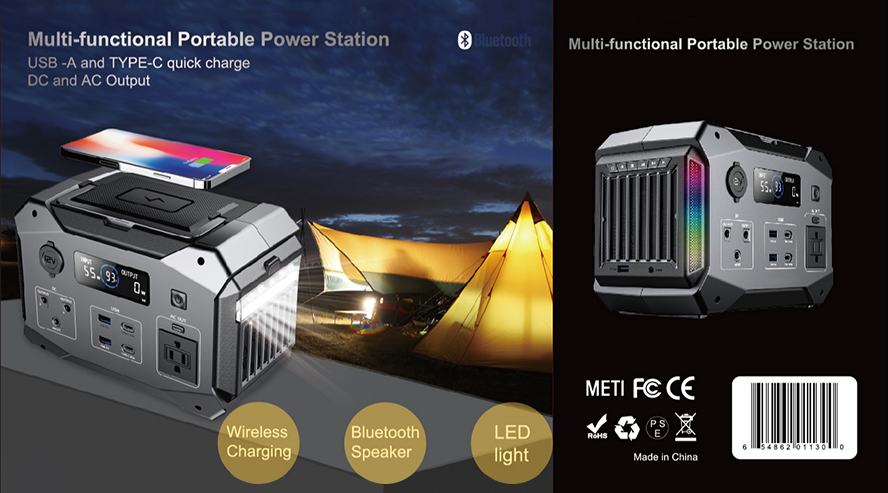 Description
Reliance Portable Power Station is a trendy, young, personalized and multi-functional portable power station, with a wide range of applications. It packs lots of power into a portable, durable, easy-to-use package. Whether you are getting away from it all, working in a remote location, or simply waiting at home for the power to come back on, this Portable Power Station lets you use devices, appliances, and tools such as mobile phone, laptop, lighting, fan, TV, printer, drone, electric scooter, car refrigerator, car cleaner, car air purifier, heartbeat pacemaker, blood pressure meter, blood glucose meter and other electrical appliances.
Product Features
Energy Storage Battery
High-quality LiFePO4 battery (159Wh)
90% charge-discharge cycle efficiency
3000 cycles (80%+)
Multi-functional Bluetooth Speaker
High standard sound chamber design
Dynamic, clear, balanced high and low tones
Multiple playback modes supported: Bluetooth, USB disk, etc.
3.5mm(AUX) audio playback
Technical Specification
Technical Specification
Battery type
1LiFePO4
Battery capacity
159WH/49600mAh
Total output power
320W
Product size (l * W * H)
250*132*170 MM
Weight
About 2.9KG
Input
DC(5521)Input
DC(5521) Charging input port X 1: DC:11-23V/3A, maximum power 60W; Support solar charging, vehicle charging, AC charger charging.
TYPE-C(60W) Input
TYPE - C x 1: PD input DC5V / 3A, 9V / 3A, 12V / 3A, 15V / 3A, 20V / 3A / 60W (maximum power 60 W, charger should be PD agreement)
Charging time
DC (5521) charging port, 57W, about 3 hours
Output
DC (5521) output
DC(5521) x 2:DC12.0~14.5V/3A
Cigarette lighter output
Cigarette lighter (EC-5) output x 1, DC 12.0-14.5V/10A (Max. 11.5a).
USB-A Output
Usb-a x 2: DC 5V/3A,9V/2A,12V/1.5A(18W Max), dual-port output, support single-port blind plug maximum quick charge output 18W, dual-port simultaneous use, total power 5V/3A output. Integrated dual port automatic plug and pull detection function.
TYPE-C(30W) Output
TYPE-C x 1: PD output DC 5V / 3A, 9V / 3A, 12V / 2.5 A, 15V / 2 A, 20V / 1.5 A (30 w Max), integrated automatic plug detection function.
TYPE-C(60W) Output
TYPE-C x 1: PD output DC 5V/ 3A, 9V / 3A, 12V / 3A, 15V / 3A, 20V / 3A (60W Max), bidirectional input/output, integrated automatic plug detection function.
Wireless charging
10W/7.5W/5W x 1( Automatic identification )
AC Output
AC socket (5-hole national standard socket optional)X1, pure sine wave output, rated power: 200W, peak power: 400W. Output voltage: 110Vac/ (220Vac), frequency (60Hz/50Hz) optional. Undervoltage, overtemperature, overload, overcurrent, short circuit protection.
Multi-functional Bluetooth speaker
Rated power 10W, frequency response: 100HZ-18khz. Dynamic, clear and full, balanced high and low sound. A variety of atmosphere lamp modes, a variety of playback modes: support Bluetooth, U disk, 3.5mm(AUX) audio playback.
LED light
LED 3W (white light), four modes: strong light, weak light, low flash, high flash (SOS rescue signal flash).
Other parameters
LCD display
HD LCD displays power status and usage information in icons and numbers.
Dissipate heat
Air cooling
Operating temperature
Charge:0℃~+40℃,Discharge:-15℃~+45℃
Storage temperature
-15℃~+50℃
Cycle life
>2000 times
certification
CQC、PSE、CE、FCC、UN38.3、ROHS
Package contents
1 x Portable Power Station
1 x AC adapter
1 x Car charge cable
1 x PD 60W Charge cable
1 x User Manual
1 x Warranty card